Hoxton Hall
9th July 2022

Fresh Variety Live is a celebration of diversity and talent. Our first show will feature leading comedians, musicians, magicians, drag artists and street theatre actors.
Join us for our first show at the iconic Hoxton Hall on July 9th to gorge on an eclectic feast of entertainment!
Featuring
A modern twist on the Victorian theme of Variety!
Featuring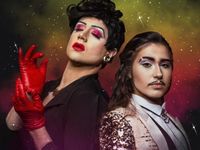 "RuPaul's meets 'Whose Line Is It Anyway?', the drag-duo are here to entertain!"
A drag double act performed by Francesca Forristal and Ed Scrivens. The loveable pairing known as 'Dragprov' consists of soft-boy 'Christian Adore' and sassy Queen 'Eaton Messe'. They will introduce each guest act and perform impromptu sketches and raps.
"One of the top 10 LGBTQ things to do in London"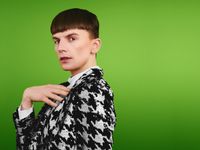 "With a caustic, catty wit and unapologetic confidence, he has taken the UK comedy circuit by the balls, and the circuit liked it!"
Stand-up, actor, writer, influencing…
Selected for the Pleasance Comedy Reserve at the Edinburgh Fringe in 2015 and a finalist in the prestigious NATYs awards and Leicester Square Theatre New Comedian, Joe now performs at the biggest and best clubs in the country.
Also working as an actor and writer, he has been seen in the movie Pride and has written for really cool publications that you probably haven't heard of!
"Takes to the stage like an old pro, oozing star power from every pore. He combines borderline offensive self-confidence and biting punchlines with an openness that leaves the audience totally tamed."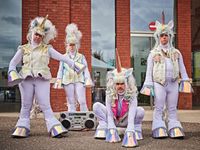 "Unicorns hold a special place in our collective imaginations. And it turns out they are real! But they've got beef."
A Hijinx Theatre creation
Hijinx creates exhilarating, subversive theatre from small to large scale for both indoor and outdoor performance. Artists with learning disabilities and/or autism are involved every step of the way in the making and performing of their stories.
"SO MUCH FUN! I never get involved with audience participation, but how could I resist a dance with those Grumpy Unicorns?!"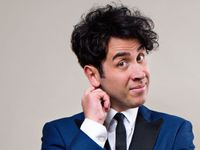 "… more magical than Dumbledore on a good day…"
The UK's leading comedian/magician and a TV regular.
Recent appearances include 'The Generation Game' (BBC1), 'The Next Great Magician' (ITV1), 'Tonight at the London Palladium' (ITV1), 'Let's Sing & Dance for Comic Relief' (BBC1) and 'Tommy Cooper Forever' (ITV1). He is also the host of the CITV gameshow 'Don't Unleash The Beast'.
Live performances have taken him all over the world and his one-man shows have entertained sell-out audiences for 10 years in a row at the Edinburgh Fringe and on several UK tours. He's been invited to perform at Montreal's prestigious 'Just For Laughs' festival, Hollywood's famous 'Magic Castle' and London's home of mystery, 'The Magic Circle'. Other UK theatre productions include 'Champions of Magic', 'The All-Star Stand Up Tour' and 'Sandi Toksvig's Christmas Cracker'.
"The new poster-boy for British comedy magic"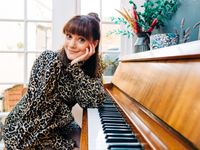 "The bastard love child of Victoria Wood and Tim Minchin."
An award-winning writer, composer, comedian and musician. Writing credits include: digital musical #zoologicalsociety (Royal & Derngate) which received nominations for the 2019 and 2020 Stiles and Drew Best New Song Prize, 'Aladdin' for The Lyric Hammersmith, 'Ten Pieces Special Report' for the BAFTA Nominated children's classical music series BBC Ten Pieces, 'The Now Show' (BBC Radio 4), and the official BBC Proms podcast which she presented for two series.
She has three stage musicals currently under commission/in development: #zoologicalsociety for Theatre Royal and Derngate, 'My Dog Has Fleas' for I.E. Productions and 'Southbound' for Johansson Productions. She is also co-adapting a popular kids' TV show for a major UK tour opening late 2022.
Vikki will soon be the musical director of a brand-new prime time TV show, due to air in spring 2022. Other TV appearances include: Richard Osman's House of Games, Celebrity Pointless, The Dog Ate My Homework, The John Bishop Show, Partners in Rhyme and the BAFTA award-winning Ten Pieces for BBC.
Classical works include: 'The Thing That Matters', a massed choral piece commissioned by the National Youth Choir of Great Britain, and 'The Concerto for Comedian and Orchestra' which premiered at Glastonbury Festival.
"Insanely multi-talented"
Vinegar Strokes & The Morning Afters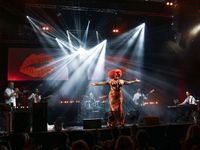 "If the love child of Tina Turner, Lizzo and Kat Slater existed, it would be Vinegar Strokes."
A world-famous Drag Queen with her own Synth-Pop band!
Vinegar Strokes & The Morning Afters are a sizzling 6-piece band of misfits that come together to fuse the sounds of synth-pop and classic cabaret! After a sold-out debut gig at The Clapham Grand, they are set to take the live music scene by storm!
Our front woman, Vinegar Strokes, shot to fame when she strutted her heels on "RuPaul's Drag Race UK". She is now the official recap queen for Drag Race! An accomplished theatre queen, Vinegar appeared in the original West End cast of the hit musical "Everybody"s Talking About Jamie" and the Dragatha Christie murder mystery, "Death Drop".
If the love child of Tina Turner, Lizzo and Kat Slater existed, it would be Vinegar Strokes. Proclaimed as the original "Hodge-Podge Queen", Vinegar is bringing old school entertainment mixed with her OWN school entertainment.
Backed by "The Morning Afters", a selection of London's most talented and frisky session musicians, you are set to witness something that will truly blow you away!
"Strokes is a West End Queen, and her voice is in fine form, as is her purposely comic overacting"